Image
Get the Best Pest Control in Boyce, VA
What kind of problem are you having? Select all that apply.
Pest Control in Boyce
Are you tired of sharing your home with unwanted pests? At Petti Pest Control, we offer same-day residential pest control in Boyce to help you reclaim your space. Our team of exterminators is equipped to handle all types of pests, from ants and roaches to spiders and silverfish. Say goodbye to these common household pests and enjoy a pest-free environment for your family and pets.
Why choose Petti Pest Control for your general pest control needs?
Effective Extermination: Our experienced exterminators will conduct a thorough pest inspection to identify the specific pests you're dealing with and the extent of the infestation. We use the best products available to provide you with the relief you can count on.
Customized Treatment Plans: We understand that every pest infestation is unique. That's why our team will create a personalized treatment plan tailored to your home, taking into consideration factors such as your home type, insect infestation level, type of insect, environment, weather, and more.
Quick and Convenient Service: We offer same-day services, ensuring that you don't have to wait long to get rid of pests. Additionally, our Saturday appointment options provide flexibility for busy weekdays, so there's always a convenient time for treatment.
Guaranteed Satisfaction: Your peace of mind is our priority. If you experience any problems after our service, simply give us a call, and we'll happily return to re-treat as needed, at no additional charge. We are committed to making sure you're completely satisfied with our pest control solutions.
Don't let pests take over your home. Trust the experts at Petti Pest Control to provide you with effective, reliable, and safe pest control services. Contact us today for a free quote and let us help you create a pest-free environment for your family and pets. Say goodbye to ants, roaches, spiders, silverfish, fleas, moths, and much more with our exceptional pest control solutions.
Image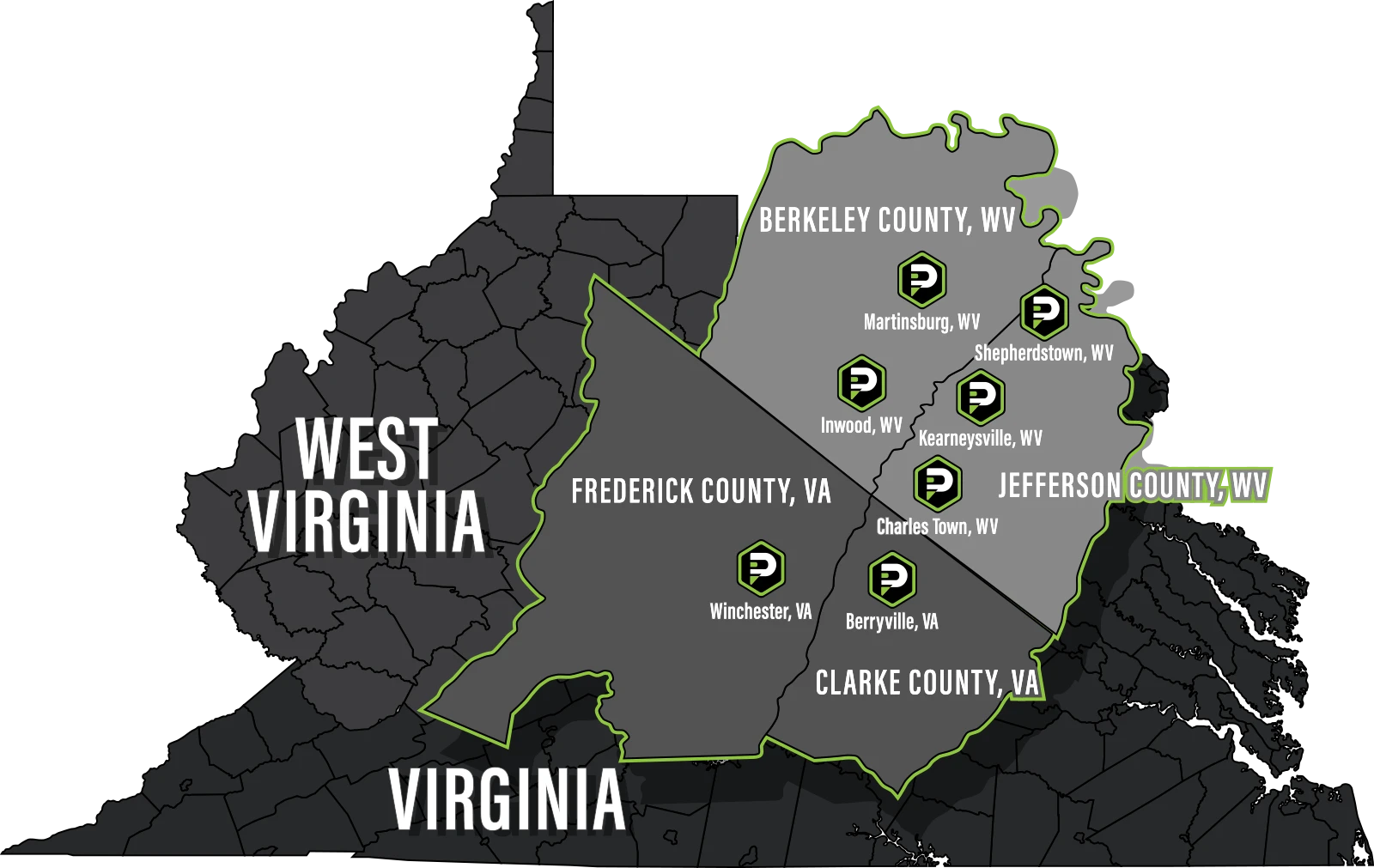 Termite Exterminators in Boyce
Are termites causing damage to your home? Don't worry, Petti Pest Control is here to help! Our family-and-pet-friendly termite treatments will eliminate existing colonies and provide long-term protection against future infestations.
Why choose us for your termite control needs?
Ongoing Termite Control: Our comprehensive treatment plan combines reactive and preventative measures, ensuring that your home remains termite-free.
Monitoring and Prevention: We utilize advanced techniques such as Sentricon bait stations to continuously monitor your property and prevent any termite activity.
Comprehensive Inspections: Our expert termite exterminators will conduct thorough inspections of your home to identify any signs of infestation and create a personalized removal and treatment plan.
Climate-specific Solutions: With Boyce, VA's climate creating ideal conditions for termite infestations, our services are tailored to address the specific challenges in your area.
Get Rid of Termites: Our effective termite control service targets termites at their source, eliminating colonies and protecting your home from further damage.
Don't wait until the damage gets worse! Call us at 304-725-9997 for a free termite inspection. Trust Petti Pest Control to keep your home and family safe from these destructive pests.
Mosquito Exterminators in Boyce
Don't let mosquitoes put your family's health at risk. Our professional mosquito control services not only eliminate mosquitoes but also reduce the transmission of harmful diseases like West Nile virus, malaria, and dengue.
With our mosquito extermination services, we offer:
Free Inspection: Our experts will thoroughly inspect your property to identify mosquito breeding sites and hiding spots like birdbaths, clogged gutters, and tall grasses.
Fogging: Our mosquito control treatment is tailored to your yard's unique needs, effectively eliminating mosquitoes and giving you lasting protection.
EPA-Approved Liquid Sprays: We strategically apply mosquito control treatments that remove insects, not just repel them.
Larvicides in Targeted Areas: Our professionals target specific areas where mosquitoes lay their eggs, preventing new mosquitoes from hatching.
Mosquito Traps: We use advanced mosquito traps to catch and eliminate adult mosquitoes, ensuring your outdoor space is mosquito-free.
Start enjoying your outdoor space again. Contact us now for a free quote and take the first step towards a mosquito-free yard. Experience the difference Petti Pest Control can make in your home.
Bed Bug Exterminators in Boyce
Are you tired of restless nights and itchy bites? Say goodbye to bed bugs and say hello to peaceful sleep with our top-notch bed bug control service in Boyce. At Petti Pest Control, we understand the frustration and discomfort that comes with a bed bug infestation. That's why we offer same-day bed bug inspection and family-friendly treatments to provide lasting relief.
Trust Our Cutting Edge Heat Treatments
Our highly trained and knowledgeable bed bug exterminators will conduct a thorough inspection of your home to identify affected areas. We will then design a custom treatment plan tailored to your specific needs. Rest assured, our treatments are safe and effective, guaranteeing you the best results. One of our cutting-edge bed bug treatment options is our high-intensity heat treatment. Our skilled team will raise the temperature of your home to a level that bed bugs cannot survive at, eliminating them at all stages of their life cycle. The best part? Our heat treatment does not involve the use of harsh chemicals, making it safe for your family and pets.
Rodent Removal in Boyce
Don't let rodents take over your home! Choose Petti Pest Control for reliable and effective rodent control in Boyce.
Why Choose Us:
FREE rodent inspection to identify the extent of the infestation
Exterior rodent baiting to prevent rodents from entering your property
Interior trapping to catch and remove existing rodents
Rodent exclusion techniques to seal off entry points and prevent future infestations
Recurring or one-time service options to fit your needs and budget
Get Rid of Rodents, Fast
Say goodbye to rats and mice with our professional rodent control service. We understand the unique challenges that Boyce faces when it comes to rodent problems. Our expert exterminators have the knowledge and experience to effectively get rid of rodents and keep them from coming back. We offer same-day service because we know that when it comes to rodent infestations, time is of the essence. Don't wait for help, call Petti Pest Control and get the relief you need right away.