Image
Save $50 on Quality Pest Control in Falling Waters
What kind of problem are you having? Select all that apply.
Pest Control in Falling Waters
While it's easy for pests to gain access to your home, even through the smallest cracks in your foundation, it's even harder to get rid of them on your own. With quality products and safe practices, Petti Pest Control is dedicated to providing customized pest control in Falling Waters at no extra hassle to you! Our services will protect you from an assortment of bugs including:
Ants
Roaches
Beetles
Spiders
Silverfish
Rodents
Earwigs
Fleas
Ticks
Stinging insects
And more!
Keep you and your family safe with services you can rely on. When you partner with us at Petti Pest Control, we guarantee efficient and effective pest control treatments. Sign up for the Petti Preferred Package and save $50!
Image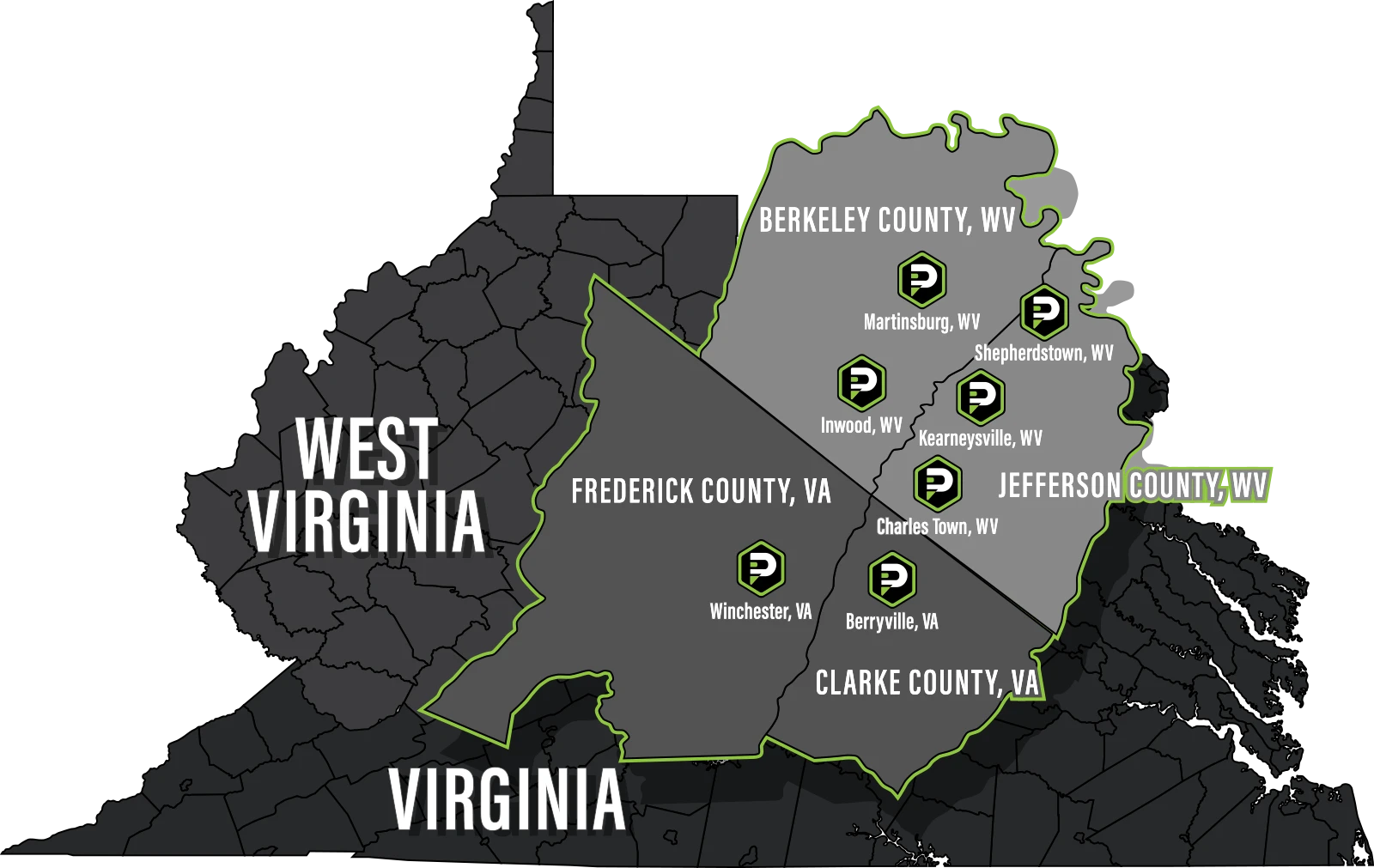 Customized Treatments for Lasting Results
Not one home is the same and that includes how your home responds to infestations. Factors like your home type, insect type, level of infestation, environmental factors, and more can make treating pests on your own with DIY solutions next to impossible. With our same-day services and Saturday hours, Petti Pest Control stands apart from the competition, making sure that you and your family receive a unique pest control treatment plan in Falling Waters tailored to your needs. Our effective products and satisfaction guarantee are some of the many benefits of partnering with us. Additional benefits include: 
A thorough inspection, identifying the pests at hand and the level of infestation.
Entry point and hiding place identification to determine how pests access and inhabit the home.
Experienced and friendly services from our trained exterminators. 
Continued services to keep the infestation under control. 
Same-Day Service and Saturday Hours
You shouldn't have to worry about waiting until next week to get pest control treatment. Each day that passes means that pests can create even more damage at an alarming rate. With Petti Pest Control, you don't have to wait until the weekday. We promise our customers that we're there for them anytime in Falling Waters! Don't wait for relief. Our same-day services and our Saturday hours ensure that you will get relief as soon as possible, even on the weekend!
Termite Exterminator in Falling Waters
Termites can cause serious structural damage to your home, and most homeowners insurance doesn't cover termite damage. This leaves you to pay hundreds, even thousands of dollars out of pocket. Or, you could trust our exterminators with termite control in Falling Waters. Whether you need help controlling a current infestation or want to prevent one from ever happening, Petti Pest Control has got you covered.
Our termite control includes:
A thorough inspection to look for signs of termites, such as peeling paint or mud tubes.
Verification that termites are present and are not lookalike insects, such as flying ants.
Custom treatment based on the severity and location of the infestation.
Methods of removal using the Sentricon System, which is safe for both kids and pets.
Rodent Removal in Falling Waters
Rodents are the most intelligent of any household pests, which bodes well for their survival in the wild but makes them challenging to get out of your home. Their great survival instincts can allow them to live within walls undetected–or at least until they emerge for food and nesting material.
Trust Our Same-Day Rodent Removal
If you're noticing signs of rodent infestation like droppings, gnaw marks, and especially rodents—dead or alive, it's time to call Petti Pest Control. Our rodent control services in Falling Waters include:
An in-depth home inspection to find rodents' preferred hiding places and determine the extent of the infestation.
A customized treatment plan is developed according to your home's unique needs.
Exclusion by repairing rodent entry points and expert rodent removal.
Same-day servicing when available to get your household back to normal as soon as possible.
Get ahead of rodents and protect your family from the health risks of rodent-borne illnesses by contacting our highly-trained experts for an inspection today!
Mosquito Exterminator in Falling Water
Are you tired of being plagued by mosquitoes every time you step outside in Falling Water? Say goodbye to itchy bites and annoying swatting with Petti Pest Control. Our expert services are designed to help you reclaim your backyard and enjoy your time outdoors without any worries.
Why choose Petti Pest Control?
Free Inspection: Our team will conduct a thorough inspection of your property to identify and eliminate mosquito breeding sites and hiding spots. We leave no stone unturned in ensuring a mosquito-free environment for you and your family.
Fogging: Our fogging treatment is a highly effective and efficient method to remove mosquitoes from your yard. We use EPA-approved liquid sprays that not only repel but also eliminate the pests.
Larvicides in Targeted Areas: To tackle the problem at its root, we strategically apply larvicides in specific areas where mosquitoes breed. This targeted approach ensures long-lasting protection for you and your loved ones.
Mosquito Traps: As part of our comprehensive mosquito control solution, we also deploy mosquito traps to capture and eliminate mosquitoes. This additional layer of defense ensures maximum effectiveness and peace of mind.
Why is Mosquito Control Necessary in Falling Water?
Falling Water's warm climate creates the perfect breeding ground for mosquitoes. These bloodsucking insects not only cause nuisance but also pose a significant health risk. They are known to transmit dangerous diseases like West Nile virus, malaria, and dengue. Don't let these pests threaten the well-being of your family.
Protect your loved ones with Petti Pest Control. Our expert mosquito exterminators are dedicated to providing you with reliable and efficient services to keep unwanted insects at bay.