Image
Get $50 Off Quality Pest Control Services
What kind of problem are you having? Select all that apply.
Pest Control in Hedgesville
If pests have managed to worm their way into the home, they can cause a whole host of issues. From property damage including chewing wires and contaminating food, to the possibility that they are carriers of dangerous diseases, eradicating any pests in the home should be a top priority. We have many years of pest control experience and have the skills and abilities to take care of many of the common and uncommon pests that you may encounter in Hedgesville. If you are struggling with any of the following pests, then make sure to give us a call: 
Ants
Spiders
Roaches
Ticks
Silverfish
Fleas
Rodents
Stinging insects
And many more!
When you are struggling with pests make sure that you call in professionals to help you out. Our team at Petti Pest Control has years of experience dealing with all manner of pest issues, and with $50 off there has never been a better time to call.
Image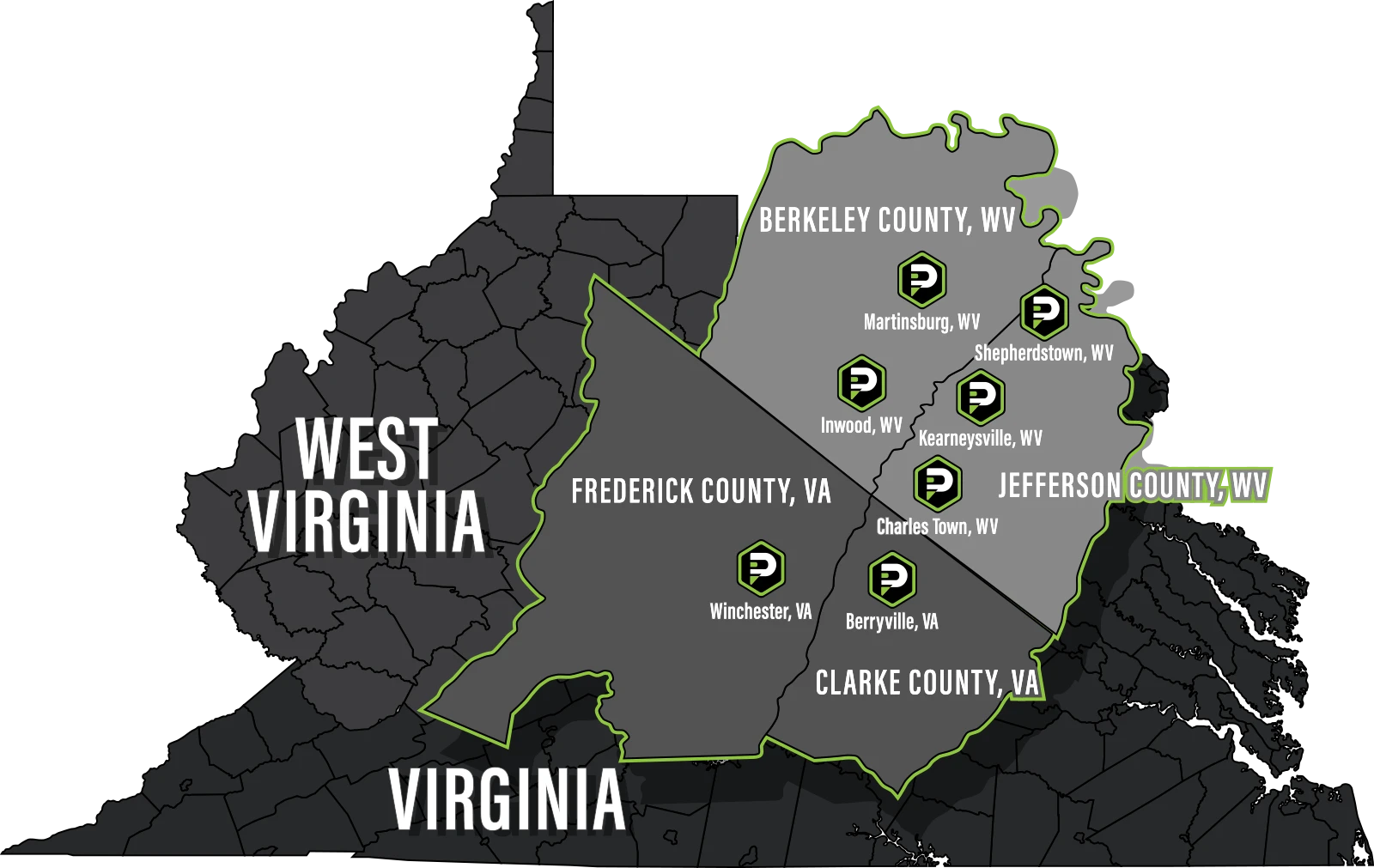 Pest Control Packages to Meet All Your Needs
Whether you just saw one bug or there is a colony of pests living in your walls, we will be able to meet your pest control needs. Rather than risking using DIY solutions that are unlikely to completely solve the pest infestation, trust our comprehensive pest control solutions to make sure that your pest issue is handled. Whether you need continuous protection or a one-time treatment, Petti Pest Control is here to help. Partnering with our team for your pest control in Hedgesville will provide you:
A free, full inspection of the home to identify the pest and any external weaknesses which may allow future infestations. 
A specially developed treatment plan designed specifically for your home and your needs.
Recurring treatments to provide continuous protection if necessary.
Flexible Scheduling For All Services
Pest infestations cause enough disruption in your life before you even begin to think about their removal, and we work hard to try and limit any further issues. That's why we offer same-day servicing and Saturday scheduling for all of our customers so that they can receive the treatments that they need at a time that suits them. Whether you need a one-off treatment or regular servicing, our extended times apply to all, and as such feel free to call us as soon as you need help.
Termite Exterminator in Hedgesville
Termites are widely known for causing immense property damage as they feed on the structural components of your home. If you're noticing wood that appears water damaged, mud trails along wood surfaces, or tiny discarded wings, it's time to call in professional exterminators.
Protect Your Home From Termites
The best treatment for termites is prevention, but whether you need protection or are facing an infestation, Petti Pest Control has the solutions you need for termite control in Hedgesville.
When you call on us for termite control, you can expect:
A free inspection to identify termites and their damage.
A course of treatment customized to your needs and your budget.
Recurring protection options using non-invasive Sentricon technology.
One-time treatment options using liquid formula.
Warranties available according to your treatment needs.
Termites should be addressed urgently and dealt with professionally to avoid further damage and prevent future issues. You can count on Petti Pest Control to give you the treatment options you need no matter the stage of your termite issue.
Rodent Removal in Hedgesville
Rodents love to make their homes in hard-to-reach places, like behind drywall, in the attic, and underneath appliances. This makes it difficult to find rodents and even harder to treat them. Instead of relying on ineffective store-bought options, choose our professional rodent control in Hedgesville! We'll get rid of rodents while stopping future infestations from happening. Petti Pest Control makes it easy to protect your home and family.
When you partner with us for rodent removal, we will:
Inspect your home to find rats and mice, plus where they're nesting.
Use our findings to create a personalized treatment plan.
Perform exclusion repairs to seal off entry points.
Give you contract-free treatment options.
Re-treat for free if rodents come back between visits.
Mosquito Exterminator in Hedgesville
Are you tired of being constantly bothered by mosquitoes every time you step outside? Look no further than Petti Pest Control for the most effective mosquito control in Hedgesville. Our expert exterminators will provide you with a free inspection and tailor a mosquito treatment specifically for your yard's unique needs.
Get EPA-Approved Mosquito Control
Say goodbye to DIY mosquito removal treatments that are expensive and ineffective. Our EPA-approved liquid sprays and targeted larvicides will quickly and efficiently remove mosquitoes from your property, giving you long-lasting protection. No more smelly sprays or frustrating methods that only repel mosquitoes temporarily.