Image
Save $50 on Pest Control in Charles Town
What kind of problem are you having? Select all that apply.
Pest Control in Charles Town
Pest infestations can happen to anyone during any season, which is why our expert exterminators at Petti Pest Control are always ready to spring into action. Whether mosquitoes have taken over your backyard, beetles are lounging in your living room, or there are spiders in your basement, we have the solution for you. Our services protect against a variety of pests, including:
Ants
Cockroaches
Stinging insects
Silverfish
Rodents
Fleas
Ticks
And more!
Our pest control in Charles Town will bring you the relief you deserve by quickly and safely removing pests. Sign up for our Petti Preferred Package and receive quality pest control with $50 off!
Image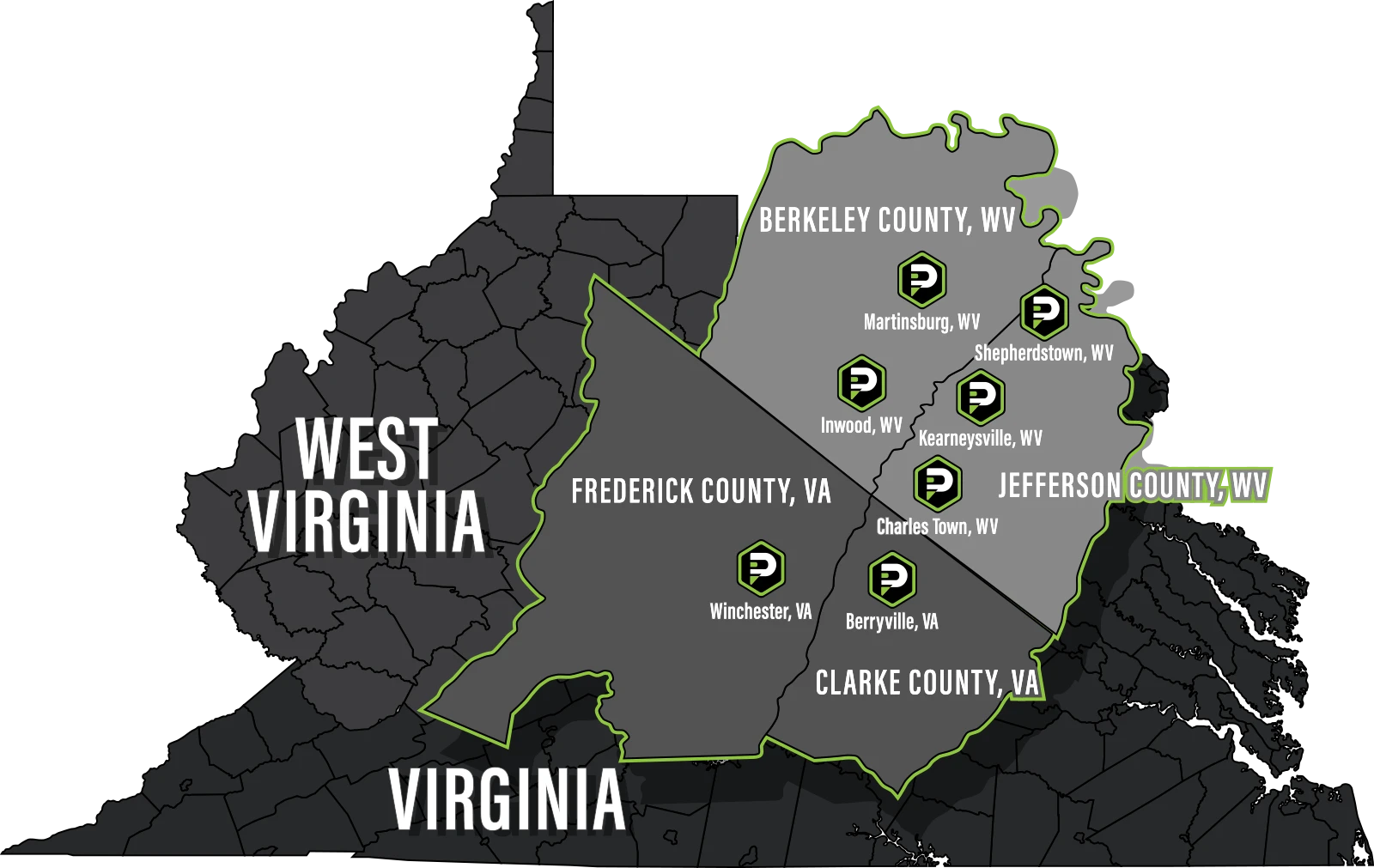 Customized Pest Control for Lasting Results
When it comes to pests in your home, it's normal to want them gone as soon as possible. While DIY solutions may seem like the fastest way to kick them out, they can be expensive and inefficient. DIY solutions only give temporary relief because they don't get to the root of the problem, allowing them to return. To control pests once and for all, you need professional pest control in Charles Town. With our fast response times, effective products, and satisfaction guarantee, there's no better option than Petti.
When you trust our exterminators, you can expect:
A thorough pest inspection of your home to identify entry points and the level of infestation you are experiencing.
A customized treatment plan based on the unique needs of your property.
A strategic treatment to control pests, no matter where they're located.
Guaranteed recurring treatments to give you long-term protection.
Same-Day Services and Saturday Hours
We know that life can get hectic, which is why we offer flexible scheduling options. If pests are on your last nerve, you don't have to worry about waiting for relief! Our same-day pest control will give you relief as quickly as possible, starting just a few hours after your phone call. We're also open on Saturdays, so you don't have to worry about busy weekdays getting in the way. 
Termite Exterminator in Charles Town
Your home is your biggest investment and the place you go to unwind at the end of the day, don't let it be ruined by termites! Our termite control in Charles Town works to remove existing colonies on your property while also protecting your home from future infestations. This gives you long-term relief from destructive termites, so you don't have to worry about them again!
When you partner with us for termite control, our exterminators will:
Perform an inspection to look for indications of termites such as peeling paint, hollow wood, and mud tubes.
Determine whether the damage is caused by termites or another type of wood-destroying insect.
Implement a customized termite treatment based on the unique needs of your property and infestation. 
Use powerful products to get rid of termites, removing the entire colony.
Mosquito Exterminator in Charles Town
Mosquitoes are best known for the red, itchy bites they leave behind, but they can also be dangerous. These insects carry countless diseases, including West Nile virus, dengue, and malaria. To better protect your loved ones and reclaim your yard from unwelcome mosquitoes, trust our mosquito control in Charles Town. Our mosquito exterminators dramatically reduce the number of mosquitoes in your yard, letting you enjoy your time outside once again.
Our mosquito control includes:
A careful mosquito inspection where our mosquito exterminators search your property for potential mosquito breeding areas and hiding spots, such as stagnant water and dense vegetation.
Top-of-the-line mosquito control that controls mosquitoes, unlike traditional bug spray that only repels them.
Regularly scheduled visits to ensure mosquitoes stay away from your property, giving you relief all season long.
Expert advice on simple changes you can complete that will make your yard less attractive to mosquitoes.
Bed Bug Exterminator in Charles Town
Bed bugs are among the least popular pests out there and for good reason. They leave behind itchy, easily-infected bites and make quality sleep impossible. When you come face to face with an infestation you need professional bed bug treatment in Charles Town from Petti Pest Control! Our trained exterminators excel at finding every last bug in your home to stop an infestation in its tracks. Don't put up with a home full of bed bugs for another second and let us get rid of them for you.
Signs of bed bug activity include:
Small, itchy bites on your skin where it comes into direct contact with bedding. 
A dank, musty odor in an affected room, similar to mildew.
Rust-colored stains on bedding or furniture.
Discarded bed bug skins or eggshells.
Live mature bed bugs.
Customized Bed Bug Control
At Petti Pest Control, we recognize that no two bed bug infestations are exactly alike. That's why we design custom treatments that respond to your unique needs and circumstances. Don't choose a pest control company with a one-size-fits-all approach. Instead, get treatment in Charles Town that's built for you! 
Rodent Removal in Charles Town
Rats and mice are prevalent in any urban area, and can easily become an issue in your own home before you even notice. Rodents are well known for spreading diseases like salmonella, hantavirus, typhus, and many more. What's more, given their intelligence they can be incredibly difficult to remove on your own. That's where our experienced exterminators can help you with your rodent removal needs. Petti Pest Control's services include:
A detailed inspection of your home to find any potential hiding spots and evaluate the extent of the problem and your specific properties' needs.
An extensive treatment plan developed specifically for you with multiple alternatives.
Home repairs of rodent entry points and any potential nests or hiding places alongside the removal of the rodents themselves. 
Efficient and Effective Treatment
Having rodents in your home is never a fun time and we understand that it is imperative that the problem be dealt with as soon as possible. We work hard at Petti Pest Control to provide same-day servicing when available to allow you to return to normalcy in your own home as soon as possible. So call us today for our premier rodent control services.