Image
Same-Day Pest Control in Martinsburg
What kind of problem are you having? Select all that apply.
Pest Control in Martinsburg
Seeing a couple of ants in the kitchen or roaches in the basement may not be too worrisome, but they can become a full-blown infestation seemingly overnight. Rather than take your chances with store-bought treatments, rely on Petti Pest Control. Our pest control in Martinsburg will remove pests from every nook and cranny of your home.
Our services provide protection against the following:
Ants
Cockroaches
Termites
Mosquitoes
Ticks
Fleas
Spiders
Stinging insects
Trust our expert exterminators in Martinsburg for relief that's both effective and affordable. We'll have your home pest-free in no time!
Flexible Scheduling with Same-Day and Saturday Hours
Sharing your home with pests is not only frustrating, but it can also be dangerous. That's why we offer same-day treatments! Our expert exterminators will remove pests as soon as possible, restoring your peace of mind. If weekdays don't work, we also offer Saturday appointments. You can rest assured that we'll always work to find a time that fits your busy schedule!
Image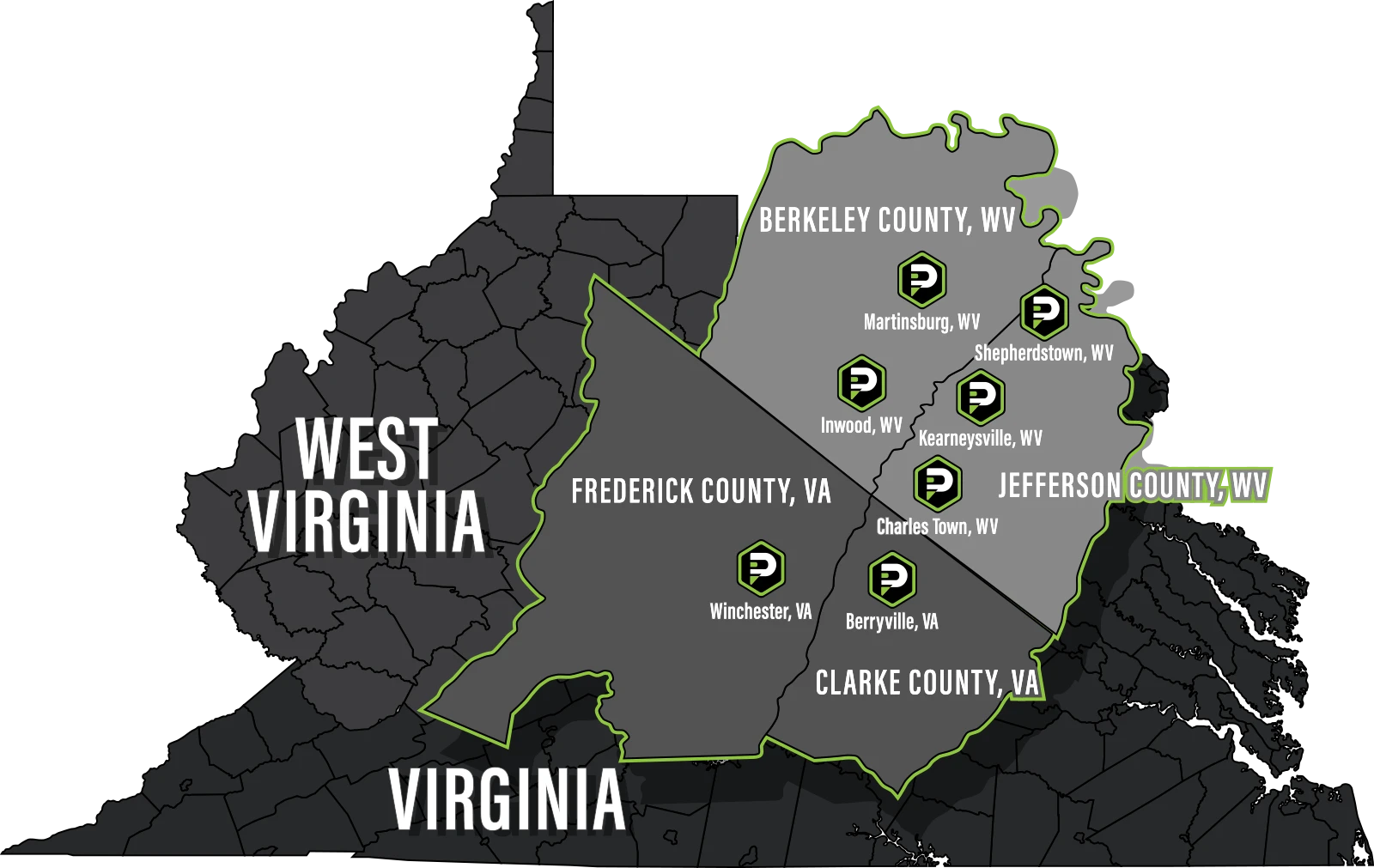 Recurring Treatments for Lasting Relief
It's easy for pests to find their way into your home. Unfortunately, it's not as easy to kick them out. That's where we come in! Our pest control in Martinsburg is designed to meet your home's specific needs, giving you effective results that last. We work quickly and carefully to treat every corner of your home, making pests a thing of the past.
When you partner with us, our exterminators will:
Conduct a thorough inspection of your home and property, searching it from top to bottom for signs of pest activity.
Create a custom treatment plan based on the type of pests present and your home's unique needs.
Use the best products available to carefully treat your property.
Address all your questions and concerns, keeping you informed throughout treatment.
Schedule recurring treatments to provide long-term relief.
Termite Exterminator in Martinsburg
Most homeowners don't know the warning signs of a termite infestation, which gives these pests plenty of time to do major damage to your home. They do this by eating through your home's wooden frame and support beams, causing structural problems and leaving you with a hefty repair bill. 
That might sound overwhelming, but our termite control is here to protect against destructive pests. We can help if you have an existing termite infestation or want to prevent one from ever happening. It's time for you to team up with the termite exterminators and protect your home!
When you sign up for our termite treatment, we will:
Conduct a thorough inspection of your property and look for mud tubes, discarded wings, hollow-sounding wood, and other common signs of termites.
Confirm you have termites and not similar-looking insects, such as flying ants.
Customize our termite treatment based on the severity of the infestation and the unique needs of your home.
Utilize efficient products and practices to remove all current termites.
Return regularly to monitor termite activity and check that your home remains pest-free.
Mosquito Exterminator in Martinsburg
When the weather is warm, it's impossible to step outside without being bombarded by mosquitoes. These blood-sucking pests leave behind itchy bites and can transmit dangerous diseases such as malaria, dengue, and West Nile virus. Instead of depending on smelly, ineffective bug sprays to keep you and your loved ones safe, trust our mosquito control in Martinsburg. We'll keep mosquito populations in check all season long, letting you enjoy your time outdoors.
Our mosquito control includes: 
A thorough mosquito inspection to identify areas mosquitoes are using as breeding sites and hiding places.
Strategically-applied mosquito control treatments to remove mosquitoes, not just ward them off.
Carefully scheduled recurring treatments to prevent mosquitoes from returning. 
Advice from our mosquito exterminators on steps you can take to keep mosquitoes away.
Convenient same-day and Saturday scheduling options for speedy relief.
Bed Bug Exterminator in Martinsburg
Is a good night's sleep too much to ask for? At Petti Pest Control, we don't think so. Our reliable bug bug treatment in Martinsburg is exactly what you need whenever they sneak into your home. Bed bugs spread quickly throughout any affected area so time is everything when trying to get rid of them. Our local bed bug exterminators take a deliberate and thorough approach in your home, going the extra mile to leave no live bugs behind. As soon as you notice any of the following signs of bed bug activity, let us know right away. Some signs are:
A musty, unpleasant odor in an infested room.
Rust-colored stains on bedding. 
Small, itchy red bites on areas of exposed skin.
Discarded bed bug skins and eggshells in bedding and drawers.
Visible live bugs in your home
Exterminators You Can Trust 
After conducting a thorough inspection in your home, our exterminators will go to work kicking them out for good. As a family-owned and operated business, we know the value of trusting whoever comes into your home. That's why we only hire experienced professionals and give them the industry's best training so that you can feel confident from beginning to end. 
Rodent Removal in Martinsburg
Mice, rats, and other rodents may be growing in popularity as home pets, but when they are unwanted visitors they can cause a whole host of problems. Besides the damage of internal wiring and hazardous droppings being left around your home, they are well known to carry a host of dangerous diseases. If you suspect a rodent infestation then be sure to call our helpful support staff here at Petti Pest Control to find out more information about how we can help you. Our experienced exterminators will be happy to provide you with: 
A thorough inspection of your home to determine the extent of the infestation and the best course of action. 
A comprehensive treatment plan designed with your specific needs in mind to make sure that you are satisfied. 
Exclusionary precautions including the sealing of potential entryways to rodent-proof your home moving forward. 
Guaranteed relief on Your Time
We are so confident in our removal techniques that we have a 100% satisfaction guarantee. If there is any recurrence of the problem or you are otherwise unsatisfied we will come back and re-treat at no extra cost to you. Additionally, we offer same-day services to make sure that any infestation you may have gets taken care of as soon as possible. Contact our team today to get expert treatments, fast.